Sharp & Tappin launch Compcut Range in Europe at JEC World
---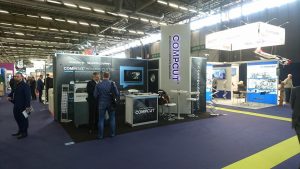 Sharp & Tappin Technology Ltd was showcasing their highly regarded COMPCUT range of composite machining solutions to the wider European market at the prestigious JEC WORLD COMPOSITES SHOW held in Paris on the 12th to the 14th of March this year. They are already noted as innovation specialists in developing, mechanical, electronic, and software engineering solutions for a wide range of industry sectors both in the UK and increasingly worldwide, and their range of Compcut Advanced Composite Plate Saws has won positive acclaim in the UK market for precision, accuracy and consistency, and also demonstrating the highest standards for cut quality, parallelism and perpendicularity across the entire range.
At JEC World, they were highlighting their Compcut 200 model, a compact unit that has proved extremely popular across the UK with R&D Units, University Departments and Composite Test Centres, offering very affordable access to an easy to use though inherently sophisticated and robust plate saw.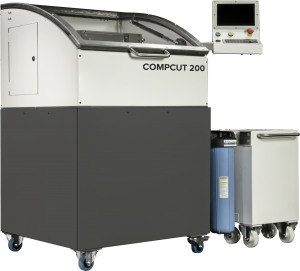 Sharp & Tappin CEO Ben Sharp comments, ' We've been encouraged by the response from the UK market to our entire COMPCUT range and sales have been very buoyant, particularly so with the COMPCUT 200 model which has fulfilled our goal in offering a high quality 'entry level' plate saw to meet an ever broadening demand. We have been delighted with all the positive comments from our customers across the R&D and Materials Testing sectors, and it was this market reaction that encouraged us to start exploring the potential for European sales and our attendance at JEC World.'
To underpin the company's confidence in its Composite Plate Saws' performance – a unit was continuously working on their stand throughout the show cutting samples across a wide range of different composite materials. This was as visitors had been encouraged to bring along their own composite material/samples to cut on this demonstration machine, so they could review its performance, cut quality, perpendicularity and
parallelism for themselves.
The company's key specialists were also on hand at the show to discuss any composite machining requirements from visitors and to also demonstrate the COMPCUT's full capabilities.
For further information about our attendance at the show or the Compcut 200 please contact:
Jon Small, Business Development Manager, Sharp & Tappin.
01409 253534 jon.s@sharpandtappin.com
—————————————————————————————————————————————-
Back To News